Disclaimer*: The articles shared under 'Your Voice' section are sent to us by contributors and we neither confirm nor deny the authenticity of any facts stated below. DesireFeed will not be liable for any false, inaccurate, inappropriate or incomplete information presented on the website.
Pakistanis have geared up against Big Three. Big Three does not refer to the one in cricket. Big Three here means the three automobile industry giants i.e. Honda, Suzuki, Toyota. CAMBT, Campaign Against Monopoly of Big Three is a campaign launched by the people of Pakistan over social media. They have a proper page on Facebook with a rapidly increasing following. They are making people aware of the scenario.
The Automobile industry of Pakistan is small and growing one. Honda, Suzuki, and Toyota are the only noticeable companies. Due to such a limited number of companies, these companies have created their monopoly. When the Government increases taxes on the companies, they increase the prices of their car. They do what they want to and no one makes them accountable for that. This year (2018) new entrants such as Kia; Hyundai; Renault and Nissan etc. are set to start their operations.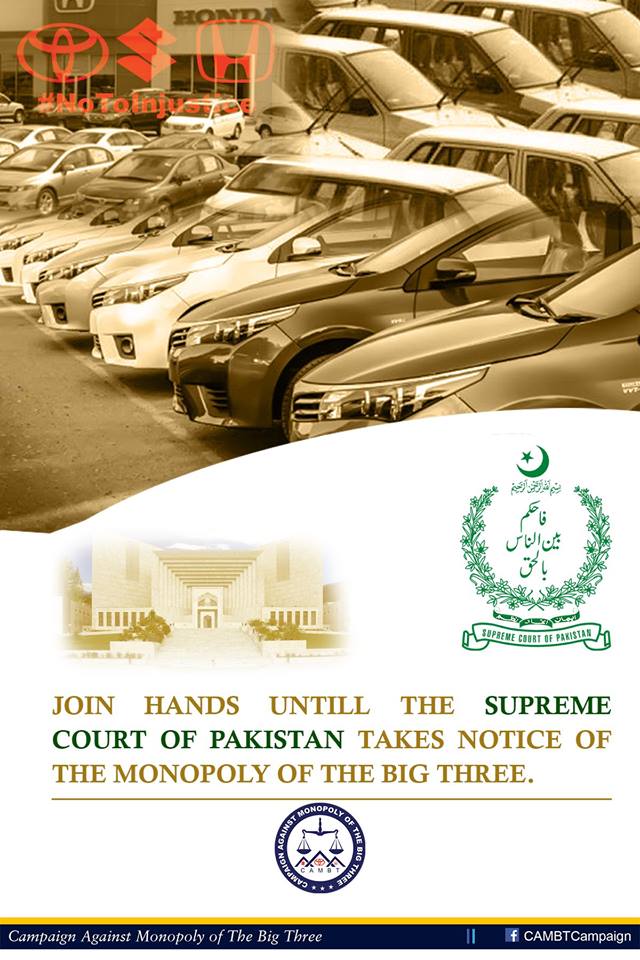 "Seeing the current monopoly in the market they will automatically follow the trend which would be just unbearable.", reads a CAMBT letter written to the Honorable Chief Justice Of Supreme Court of Pakistan. The letter further reads,"We all know that life is a short and precious blessing of Allah Almighty and its safety must be insured. Automobile manufacturers in Pakistan do not even provide the basic safety features. A car priced at Two Million PKR does not have airbags in it. Let me quote an example of one car of a company currently operating in Pakistan and then compare it to other automobile markets".
Comparison Of Price And Features:
Firstly, let's have Honda on the board for comparison.
Features and Price of the car in Pakistan:-
No airbags in any variant
Has ABS standard in all variants
Price starts from Rs. 1761000and goes to Rs. 2029000
Features and Price in India:-
2 airbags standard in every variant.
Some variants have up to 6 airbags.
Auto headlamps with auto off timer
Rain sensing wipers
Standard ABS and EBD
Price starts from Rs. .1504000and goes up to Rs.2289000(Prices are converted into Pakistani rupees.)
This is only one example. Same goes for Toyota and Suzuki.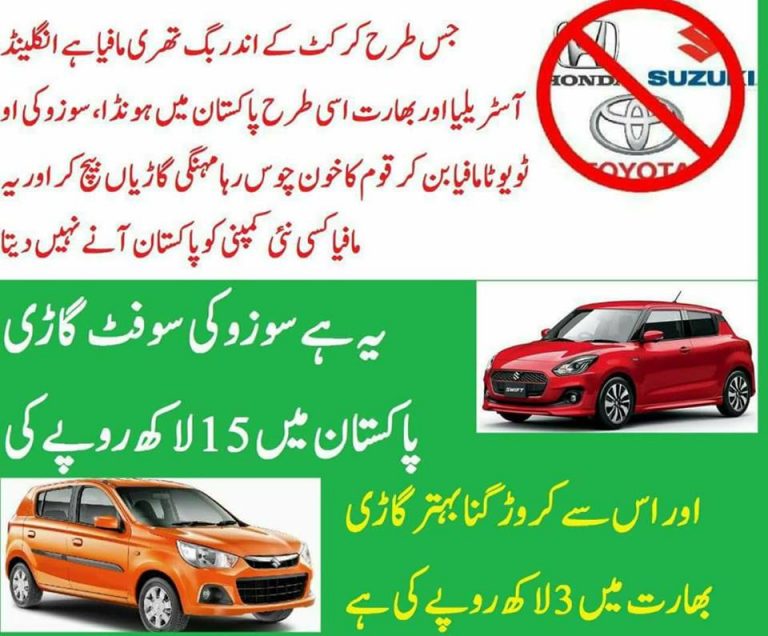 The cheapest car available in Pakistan is Suzuki Mehran that too is priced at 0.8 Million PKR. The car is being sold from 1980 till date. As per my knowledge, the Honorable Supreme Court of Pakistan ordered Pak Suzuki to halt the sales and production of the car some time ago. But Pak Suzuki is still selling the car. From 1980 till now the car has the same shape. It has some pathetic brakes. It does not have power windows and power steering.
In 28 years the company was not even able to introduce an automatic transmission in the car. But the prices continue to increase and people still buy it because it is the "cheapest brand new car available in Pakistan". Seeing this situation, people tend to import cars from Japan which have larger safety and they end up paying heavy taxes. The situation of pollution in Pakistan is really bad. A major factor is the cars on roads.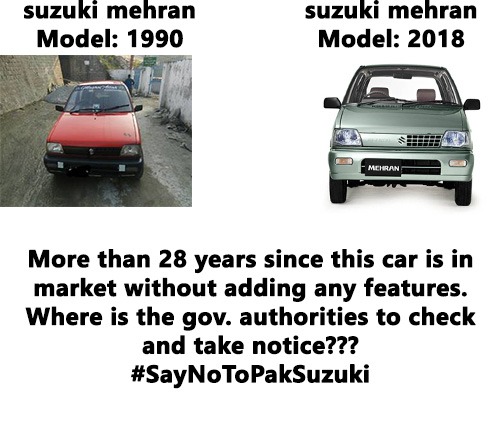 The UK recently imposed on all the diesel vehicles and decided that by 2030 they will only have Hybrid and Electric cars. This step was taken by them to decrease environmental pollution. A similar step is the needed of the hour in Pakistan. No company in Pakistan assembles hybrid cars. Toyota gives Prius to the local market as a CBU (Completely Built Unit) and it is priced at 4.5 Million PKR. If you import the same car from Japan it costs you around 3.5 Million PKR. The custom taxes on Hybrid cars must be lifted so people import those cars and pollution is decreased.
Diesel cars must be banned. The import of accidental vehicles which usually have their airbags open must be banned. Local Automobile Companies must be made accountable. They must add safety features in all their cars as standard without any bump in prices. They must decrease the prices of the cars. We hope that you will give this a thought and will take a strict action against concerned authorities. The lives of the people of Pakistan are now in your hand and People of Pakistan have faith in you."
This campaign has drawn a lot of attention. People are supporting the cause. As the letter tells that they have demanded decrease in import duties and increase in safety. But some people fear that if this happens the Big Three will suffer a huge blow and their sales will go down. In my view, this will not happen. Obviously, the three companies will get jerks and jolts but this will increase the competition. Either the companies will start giving locally assembled hybrid cars or they will increase safety and decrease the prices. This will surely give them a headache and break their monopoly. It is a fact that the price of cars increases as the Dollar rate increases but the prices remain the same when the dollar rate decreases. Let's see how this campaign ends up.